Maintaining your breast health at Rose Medical Center in Denver
Colorado total breast health
Rose Total Breast Care is pleased to be a part of Colorado Total Breast Health, a collaboration of North Suburban Medical Center, Presbyterian/St. Luke's Medical Center, and Rose Medical Center.
Colorado Total Breast Health is your partner in overall breast wellness delivering the turnkey support women need: ease of access, personalized treatment, collaboration and state-of-the-art capabilities. Our expert team of breast imaging radiologists, surgeons, genetic counselors, oncologists, specially trained nurses, nurse navigators and more have created a pathway for breast health.
Learn more about Colorado Total Breast Health
Rose knows what our patients want in a breast center: compassion, clinical excellence, a warm environment and comprehensive breast diagnostics and support. That's why we have proudly partnered with Solis Mammography, the nation's largest women's imaging provider, marrying Solis' hallmark patient-centered service platform with Rose's skilled breast–dedicated radiologists and technologists. Solis Mammography at Rose is in the same location as the Rose Breast Center at 4700 Hale Parkway, Suite 450, Denver, 80220.
In order to bring you the very best care in a location convenient to you, we also have opened Solis Mammography at Stapleton/Central Park, located at 10405 Martin Luther King. Jr. Blvd. Denver, CO 80238.
Rose breast centers are open for your mammogram and diagnostic needs. To provide close, convenient care, we offer two locations: on the Rose Medical Center campus and at Solis Stapleton.
Through Solis, our patients will have an exceptional mammography experience uniquely designed around their convenience and comfort. Scheduling is available online, staff is highly trained in compassion and patient comfort and results are fast—usually within 24 to 48 hours. Our patients will have access to the full range of breast screening and diagnostic services, including:
The latest comfort technology that's shaped like a woman's breast and helps deliver more comfortable mammograms
3D mammography, or tomosynthesis
2D screening mammography
Diagnostic mammography
Diagnostic breast ultrasound
Ultrasound-guided biopsy
Stereotactic biopsy
Bone density testing
Safety when getting a mammogram
You deserve peace of mind, now more than ever. With enhanced safety precautions, and the same care and expertise you've come to count on, we're your safe haven for breast care. We have implemented heightened safety procedures based on recommendations by the CDC. These include the screening of all Solis Mammography staff and patients at the time of arrival, constant and vigorous cleaning of all surfaces, continued social distancing except at the point of care, personal protective equipment for our clinical staff, as well as the mandatory wearing of face masks by all patients. See how we've made your peace of mind -- and safety -- a top priority.
Solis Mammography breast centers are open for your mammogram and diagnostic needs! To provide close, convenient care, we offer two locations: on the Rose Medical Center campus and in Stapleton/Central Park. Schedule your screening exam now!
Our staff is dedicated to providing you with a warm, caring experience. We deliver a calming, spa-like environment, and our staff understands that mammography is an intimate--and sometimes scary--experience, and their compassionate care is designed to put you at ease. Your entire visit should only take 30-45 minutes, and you will receive your results via secure email within 24-48 hours.
At Solis Mammography at Rose Medical Center or Solis Mammography Stapleton/Central Park, your mammogram is read by specialized breast imaging radiologists located right at Rose, and if you have questions, you may speak with them directly.
We welcome walk-ins for routine mammograms at the Rose Breast Center in Denver Monday through Friday from 7:00am to 4:00pm and every other Saturday from 7:15am to 11:45am. To make an appointment for a state-of-the-art mammogram or to schedule an appointment outside of our walk-in hours please call (866) 717-2551.
If you have been given a breast cancer diagnosis at another facility, but are feeling unsure of it, our radiologists at Rose Total Breast Care are happy to offer a second opinion. Our radiologists review your previous results and order further testing to confirm your diagnosis.
Are you at risk for breast cancer?
Sarah Cannon Cancer Institute at Rose Medical Center recommends that an annual mammogram screening for women ages 40-74 should be a routine care consideration. A woman's decision to undergo screening should be made in consultation with her physician. Patients who are considered high risk should consult their physician on when to begin screening.
The following factors indicate if you are at a high-risk for developing breast cancer:
First degree relative with breast cancer

Start mammograms 10 years before that relative was diagnosed with breast cancer
Having two first degree relatives with breast cancer increases risk three-fold

Gene mutations, including ATM, BRCA1, BRCA2, CDH1, CHEK2, NBN, NF1, PALB2, PTEN, STK11, TP53
Personal history of breast cancer
Dense breasts
Starting menstruation before 12 years old
Previous diagnosis of atypical ductal hyperplasia, atypical lobular hyperplasia or lobular carcinoma in breast tissue
Menopause after 55 years old
Radiation therapy to the chest at a young age
What is a mammogram?
A mammogram is a low-dose, digital X-ray of your breasts. Having clear and accurate images of the inside of the breast is important to help detect and diagnose breast disease in women. The Rose Breast Center offers several imaging services for mammography, including.
Screening mammograms
Diagnostic mammograms
3D mammography
Screening mammogram
During a screening mammogram, your technician will take two X-rays of each breast. This is used to find any changes in the breast for women who have no signs of breast cancer. This technology makes it possible to see changes that are not yet felt. Women are advised to begin annual screening mammograms at 40 years old. Often, screening mammograms may detect changes in the breast that are too subtle to find during a physical examination.
Diagnostic mammogram
A diagnostic mammogram is ordered when you or your doctor discovers a change in one or both breasts. A change may include pain, nipple thickening, nipple discharge or a change in breast shape or size. This test may also be implemented if an unusual spot was found on a screening mammogram.
Tomosynthesis, 3D mammography
As part of our ongoing commitment to the breast health of women in Denver and the surrounding Rocky Mountain Region, we offer digital three-dimensional (3D mammography or tomosynthesis), a revolutionary breast imaging tool.
Our advanced 3D mammography machine swings around the breast taking X-rays from multiple angles to allow fine details that could be hidden above or below tissue. These images are then computer generated into a 3D reconstruction of the breast.
This screening tool has been shown to give a clearer, more accurate look at the breast than traditional mammography. Rose is also one of the first breast centers in Colorado to offer 3D mammography.
This technology is particularly useful for women with dense breasts. Research has suggested that, with the clearer picture from a 3D mammogram, radiologists can better view subtle details. This leads to increased breast cancer detection rates as well as a decreased number of unnecessary call backs or false positives.
Women should prepare for a 3D mammogram just as they would for a traditional mammogram.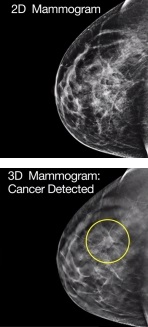 What to expect for your mammogram
Here are some things to think about when preparing for a mammogram at Rose Breast Center:
Consider scheduling during a time when you expect your breast to be the least tender (perhaps avoiding the week before your menstrual cycle).
Wear a two-piece outfit so you only have to remove the top.
Please do not wear any deodorant, powder or lotion under your arms or on your breasts.
Although the actual exam takes 15 to 20 minutes, please be aware that your appointment could take up to 45 minutes.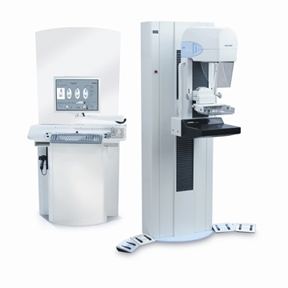 Each patient is shown to a private changing room, asked to undress from the waist up and given a heated gown as a cover. You will then be escorted to the exam room where the technologist will position each breast, one at a time, on the mammography machine. Breast tissue is compressed to prevent motion, allowing for the best image. Additionally, you will be asked to stand very still and hold your breath while images are taken.
After your screening, one of our radiologists personally reviews and analyzes your images within 24 hours of your exam. If your results are normal, you will receive a phone call from our team along with a letter in the mail regarding your results within 10 days.
What if something concerning is found?
If our radiologist finds something abnormal in your images, our team will contact you within two business days of your appointment to schedule a follow-up visit. This visit may involve taking additional images and/or performing a biopsy, both of which are done in the Rose Breast Center.
If your mammogram or breast ultrasound results in a cancer diagnosis, rest assured that we are here for you. As an American College of Surgeons Commission on Cancer® accredited cancer program, we take pride in providing multidisciplinary care that helps save lives.
Quality and accreditation
Our equipment, every procedure and every technologist who works for Rose Breast Center is evaluated and approved by the American College of Radiology and the U.S. Food and Drug Administration's Mammography Program (Mammography Quality Standards Act – MQSA).
All Rose Breast Center technologists are registered and specially trained in mammography imaging. Our radiologists are board-certified and significantly exceed the requirements for mammography interpretation, plus they have trained with world-renowned experts.
Each year, Rose Breast Center performs more than 18,000 mammograms, and we are a certified Softer Mammogram Provider that uses ImageChecker technology to ensure that each exam is of the absolute highest quality for the best interpretation.
Benign breast conditions
Women experience many changes in their breasts throughout their lives and even just throughout each month! Some changes can be frightening as they mimic the signs and symptoms of breast cancer. The good news is: more often than not, women who undergo further testing with a biopsy are given a noncancerous diagnosis.
In fact, an estimated 80 percent of breast biopsies result in a benign diagnosis.
If your benign condition is painful or causes discomfort, your physician may recommend treating it through surgery or medications. Other conditions may need no treatment at all. There are also some types of benign breast conditions that put you at a higher risk for breast cancer. In this case, your doctor will recommend ongoing monitoring.
The most common types of benign breast disease include:
Breast cysts
These fluid-filled sacs often can be felt as a soft or hard lump and can be any size. They are oval or round and can develop anywhere on the breast. They may be painful, or they may go unnoticed.
Cysts may go away on its own without treatment. If not, your physician may remove the fluid in the cyst using a fine needle and syringe. From what experts can tell, breast cysts do not place you at a higher risk for breast cancer.
Fibrocystic breast disease
This condition is also called fibrocystic breasts or fibrocystic changes. It is used to identify a condition in which a woman's breasts feel lumpy. While not harmful, it may be uncomfortable for some women. Symptoms include swelling, thickening of tissue, lumps, pain, tenderness. These might come and go with your monthly cycle.
While this condition does not increase your risk for breast cancer, it may make it more difficult to diagnose. It's important for women with fibrocystic breasts to know their breasts by look and feel so they can see if something changes. No treatment is necessary for fibrocystic breasts. However, some people find that limiting caffeine, eating low-fat and taking fatty acid supplements reduce the symptoms.
Fibroadenoma
These lumps are the most common type of breast lump. They usually don't cause any pain. They may feel like a marble that moves beneath your skin. Some women don't feel fibroadenomas at all.
Fibroadenomas may shrink or disappear with no treatment; however, if they cause pain or other problems, they may be removed with a surgical procedure called a lumpectomy or with cryoablation. Depending on the type of fibroadenoma, your doctor may want to regularly monitor you after treatment to check for symptoms of breast cancer.
Intraductal Papillomas
These lumps resemble a wart and grow in the breast's milk ducts. Some women also notice a nipple discharge that is clear or bloody. Usually, these lumps are not painful, but some women experience discomfort around the area. Typically, these are removed with surgery such as an excision biopsy or a vacuum assisted excision biopsy.
Traumatic fat necrosis in breast
These firm breast lumps are made up of dead or damaged breast tissue. They appear after a breast surgery or other trauma. Sometimes they are painless but may cause some tenderness in the area. Your doctor may prescribe pain relieving medication and a warm compress. If the necrosis is bothersome, your doctor may remove it through surgery. This is less common for this type of breast condition.
Frequently asked questions
If I am pregnant or breastfeeding and due for a test should I wait?
If you are pregnant you should not undergo a mammogram because of possible danger to the fetus. If your gynecologist or obstetrician feels it is important to have a breast screening test during your pregnancy, a breast ultrasound will be ordered.
If you are breastfeeding, your tissues may appear more dense than usual, making it harder for the radiologist to interpret the results.
Can I still get a mammogram if I have a breast implant?
While it is safe to have a mammogram when you have a breast implant, be sure to tell the technologist before the procedure since the machine may require special adjustment for the best possible images.
Breast health locations
Retrieving location data...