As part of its ongoing commitment to the breast health of women in Denver and the surrounding Rocky Mountain Region, the Rose Breast Center offers digital three-dimensional mammography (3-D mammography, also called tomosynthesis), a revolutionary breast imaging tool.
This screening tool has been shown to give a clearer, more accurate look at the breast than traditional mammography. Rose was one of the first breast centers in Colorado to offer this sophisticated technology.
How Does 3-D Mammography Work?
Like a traditional mammogram, 3-D mammography uses X-rays to capture images of breast tissue, which can help breast radiologists detect lumps, tumors or abnormalities. During a 2-D mammogram, images are taken only from the top and side into one overlapping image. However, during a 3-D mammogram, an X-ray arm swings across the breast, taking multiple images from a variety of angles. The images are then computer generated into a 3-D reconstruction of the breast.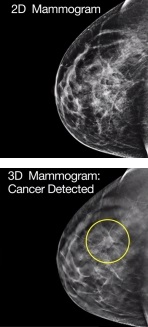 What are the Benefits of 3-D Mammography?
Unlike a traditional mammogram's 2D image, the 3-D mammogram provides a higher quality, more comprehensive image to better analyze potential abnormalities. This technology is particularly useful for women with dense breasts. (Rose also provides other screening services for dense breasts, including ultrasound and MRI, which your primary care physician may choose for your care.)
Research has suggested that, with the clearer picture from a 3-D mammogram, radiologists can better view subtle details. This leads to improved breast cancer detection rates as well as a decreased number of unnecessary call backs (or false positives).
How can I Prepare for My 3-D Mammogram?
Women should prepare for the 3-D mammogram, just as they would a traditional mammogram. Read tips for preparing here>>