Early Detection Can Save Lives | Rose Mammograms
The Rose Breast Center offers the latest technology, highly experienced, compassionate staff and a smooth, soothing experience for breast cancer screening mammograms. Our dedicated breast radiologists have been leaders in the field of mammography for more than 50 years combined. These highly trained physicians personally review and analyze your images within 24 hours of your exam. and are on site daily, available to talk through any questions you may have.
"When I come here it is like I have a new family. I never feel like I am a number, everybody is amazing. They saved my life and I will love them forever."
What is a Mammogram?
A mammogram is a low-dose, digital X-ray of your breasts. Doctors use it to help detect and diagnose breast disease in women. Women are advised to get annual screening mammograms starting at age 40 as these screenings often may detect changes in the breast that are too subtle to find during a physical examination. If detected early, nearly all breast cancers can be successfully treated!
Schedule Your Mammogram Now: 303-363-7673
Leading-Edge Technology: 3-D Mammography
Rose Breast Center only uses digital mammography technology – in fact, Rose was the first breast center in Denver to offer all-digital mammography. Rose is also one of the first breast centers in Colorado to offer 3D Mammography, called tomosynthesis—the latest in detection technology.
By taking multiple images from a variety of angles, tomosynthesis generates a 3-D reconstruction of the breast. Unlike a traditional mammogram, which generates a 2-D image, the 3-D mammogram provides a higher quality image to better analyze potential abnormalities. This technology is particularly useful for women with dense breasts. Rose also provides other screening services for dense breasts, including ultrasound and MRI, which your primary care physician may choose for your care.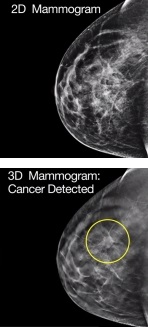 Dense breast tissue is comprised of more connective tissue, which may mask abnormalities in a routine 2-D mammogram.
Second Opinion Care
Need a second opinion? If you have been given a diagnosis at another facility, but are feeling unsure of it, our radiologists are available to offer another opinion. Our team can review your results or order additional testing for clarification of your diagnosis. Please call us at 303-363-7673 to learn more about getting a second opinion from the Rose Breast Center.
Quality and Accreditation
Our equipment, every procedure and every technologist who works at the Rose Breast Center is evaluated and approved by the American College of Radiology and the FDA's Mammography Program (Mammography Quality Standards Act – MQSA).
All Rose Breast Center technologists are registered and specially trained in mammography imaging. Our radiologists are board-certified and significantly exceed the requirements for mammography interpretation, plus they have trained with world-renowned experts.
Each year, Rose Breast Center performs more than 18,000 mammograms, and we are a certified Softer Mammogram Provider that uses ImageChecker technology to ensure that each exam is of the absolute highest quality for the best interpretation.
Concerned About Your Hereditary Cancer Risk?
Many women wonder about their cancer risk based on family cancer history or ancestry. That's why the team at Sarah Cannon at Rose Medical Center created the Rose Hereditary Cancer Clinic. Our mission is to help educate patients and families about familial cancer and cancer risk and provide an easy resource for cancer screening, risk reduction and genetic counseling. Learn more >>